Looking to stock your bait & tackle shop with soft plastic shad bodies in 2010?

* 4'' Shad Bodies
* 5'' Shad Bodies
* 6" Shad Bodies
* 9" Shad Bodies
* 12" Shad Bodies

Our shad bodies are designed to have maximum action and fish catching appeal. The smaller sized shad bodies ( 4'' - 6'' ) are good for freshwater fishing and the larger sized shad bodies ( 6'' - 12'' ) are great for saltwater fishing.

Standard Colors: White, Chartreuse and Green Glitter

* Our Standard Shad Bodies are sold to you as singles Buy Soft Plastic Shad Bodies For Your Store, Click Here! sell them how you like.

* Our Two Tone Shad Bodies bring many color layout options to compliment your stores standard color selections.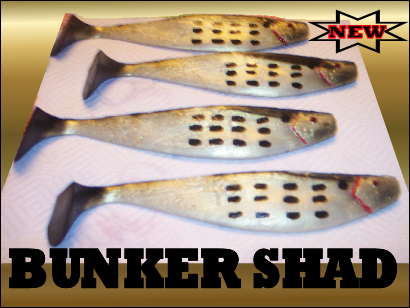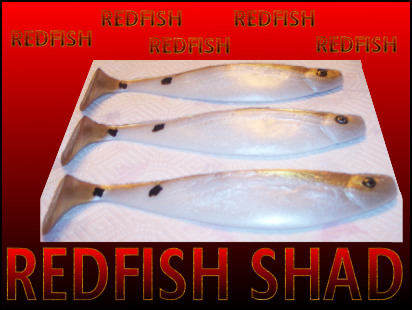 * Our Custom Shad Series allows you to offer your tackle shop customers the right color shad bodies for your area.

* Bunker Shad Bodies - Our bunker shad are black on top with a reflective medium gold belly. Dots and dashes are applied in a tight formation recognized world wide as a bunker shad.

Our Bunker Shad offerings are not rare but limited M.S.R.P.

9'' Bunker Shad - 5.99 each Updated 1/21/09

* Redfish Shad Bodies - Our redfish shad are shinny redish brown on top with a white reflective belly. Attention to detail and unique spots on the tail are what set these redfish shad bodies apart from the run of the mill variety.

Our Redfish Shad offerings are not rare but limited M.S.R.P.

9'' Redfish Shad - 5.99 each Updated 1/21/09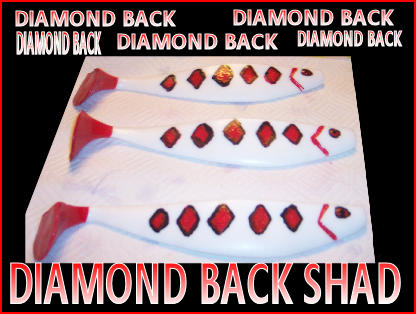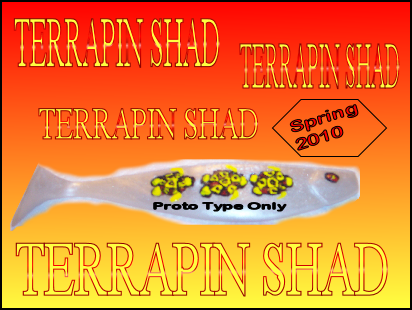 * Our Flatbellies Designer Series shad bodies will be sold to you already packaged with our logo on each package.

* Diamond Back Shad Bodies- The Diamond Back Shad are brand new for 2010 and are first cousins to our Terrapin Shad Bodies. Diamond Back Shad Bodies feature five bold and distinct diamonds running horizontal along the shads lateral line.

The main body of the Diamond Back Shad is white with the gill plates and tail painted in red. The Diamond Back Shad has oversized red eyes, black circles and black pupils.

While there are no real diamonds used in our custom design process the Diamond Back Shad should be considered rare and will be priced as such.

9'' Diamond Back Shad - Opening price up at (M.S.R.P) 7.50 each sold 2 shad per pack. Price Updated 1/21/10

Our Diamond Back Shad Bodies should be considered rare and may infact be numbered as collectors items. ( ex... 1 of 1000 thru 1000 - 1000 ) final determanation has not been made. Fishing lure collectors please check back between now and spring 2010.


* Terrapin Shad Bodies - (Coming Soon / Spring 2010)

Our Terrapin Shad is inspired by turtles that are native to the Maryland Chesapeake Bay area. Each Terrapin Shad will have three marks running along the lateral line that resemble the pattern of a turtle shell.

Holding true to Maryland's colors: red, white, black and yellow will be used to add color and detail to each Terrapin Shad produced.

Our Terrapin Shad Bodies should be considered rare and may infact be numbered as collectors items. ( ex... 1 of 500 thru 500 - 500 ) final determanation has not been made. Fishing lure collectors please check back between now and spring 2010.

( Hand Made + Hand Designed + Hand Painted ) proudly made in the U.S.A.

Thank's for looking Copyright © 2000 - 2010 Flatbellies Fishing Lures